To mark Dementia Action Week, Fiona Mitchell talks to one of Crossroads Care's longest serving members of staff, Gaye Goulding, about her 16 years with the charity.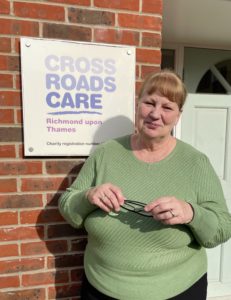 'Before I had my children 30 years ago, I worked in a bank,' says Gaye. 'Sometimes when my boss had time off, he'd return and joke "who have you given an overdraft to this time then?" I've always been motivated by kindness.
'Needing flexible working hours to fit in around caring for my children, I went into care work, and it was here that I found my calling – caring for older people. I was in awe of their wisdom and strength, and became absorbed in their wonderful, varied lifetime stories.
'I'm now the Adult Senior and Caring Café Lead — a friendly meeting place for Carers and those living with dementia. My role at the Café involves planning and overseeing everything – setting up the room and arranging entertainment such as quizzes. I might be making sure a musician has all that she needs to give a great performance or, as the resident flower arranger, I'll be setting out blooms for everyone to turn into arrangements which they'll ultimately take home. I'm fortunate to have a great team of staff and volunteers.
'I've had a long career in the caring profession, but the longest job I've had by far is for Crossroads Care. I get real satisfaction from what I do, knowing the difference we make to people's lives. The team are like family, and we strive to provide high-quality services that meet local need.
'A typical day in the life of a Care Support Worker is varied. No two people have the same care needs, so you might be sitting and reminiscing with a person living with dementia, or making lunch and putting a wash on. We also assist with personal care needs. Giving someone dignity and privacy is such an important part of our role.
'Care work centres around building human connections and making a difference. Nursing didn't appeal to me as I wanted more family contact. At Crossroads, we look after the whole family, not just with older people but also children and young people with health and social care conditions.
'The most important quality a Care Support Worker needs is patience, to step back and look at what's happening for the Carer and the person they care for. To give them time and a listening ear is so valuable and rewarding.'
To find out more about becoming a Care Support Worker with Crossroads Care, visit: https://www.crossroadscarerk.org/join-us/