Crossroads Care, the charity which gives unpaid Carers a break, has been chosen by Tesco to be part of its Community Grants Scheme. And we need your help to vote for our charity at 13 local stores to secure the grant!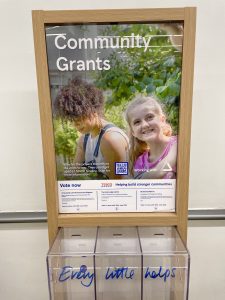 'Supporting Carers to take a vital break from their caring role, is at the heart of everything we do,' says Julie Da Costa, Crossroads Care CEO. 'Carers are often isolated and are significantly more likely to develop long term health problems. Please help us reach more vulnerable Carers within our local community by voting in your local Tesco's store.'
Voting has started and all you need to do is pop the token that you receive at the till into the Crossroads Care slot in-store.
Thank you from all of us here at Crossroads Care Richmond and Kingston upon Thames!
The stores where you can vote for Crossroads Care are:
Barnes Express SW13 9EW Express
Hampton Hill Express TW12 1NL Express
Kew Garden Express TW9 3PZ Express
St Margarets Twik Exp TW1 1RG Express
Richmond TW9 1HY Express
Richmond Express TW10 7NR Express
Teddington TW11 8RF Superstore
Whitton High St TW2 7LN Express
Twickenham Whtnrd Exp TW1 1BJ Express
East Sheen Exp SW14 7NX Express
Mortlake Exp SW14 8AB Express
Richmond Kew Rd Exp TW9 2PQ Express
Twickenham Ldn Exp TW1 4BW Express