During World Alzheimer's Month, Fiona Mitchell explores how the Caring Café, run by Crossroads Care, has become a lifeline for people living with dementia and their carers
It was more than 20 years ago that visitors attended the launch of London's very first 'dementia café set up by Crossroads Care, initially in partnership with the Alzheimer's Society.
The café became such a beacon of light in the lives of carers and their loved-ones that it is still running today, now known as the caring café.
The concept, based on a Dutch model, is at first glance a simple one: twice a month, carers and their loved-ones with dementia meet in a non-judgemental café environment to socialise, unwind and enjoy activities, as well as receiving specialist information and advice – all while supported by a highly trained team of care support workers and volunteers.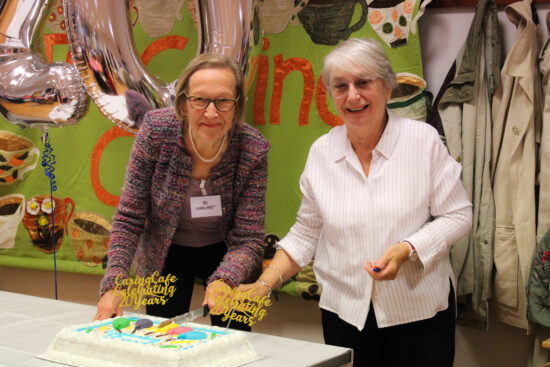 'Meeting like-minded people and developing friendships and a support network within the local community is paramount to the mental health, well-being and independence of carers and their loved ones,' says trustee Eleanor Willett (pictured, right) who set up the café during her tenure as Crossroads Care CEO. 'The café has longevity because there's an absolute need for it. This is an important project.'
Indeed, so impactful is the café that it was showcased as an example of excellence in the Government's 2008 strategy document 'Carers at the heart of 21st-century Families.'
Now held in a bright, airy space in Sheen, it is a place where people can let go of their caring role and relax for a few hours as well as making friends. The café features a carers support group, run by Crossroads Care trustee Margaret Dangoor (pictured, left), where people can air the stresses of everyday caring and share coping methods.
As one carer says: 'Caring is a lonely situation, but there's always people to listen at the wonderful Caring Café.'
Funded through Richmond Council, as part of a Carers HUB, the café offers activities tailor-made for people with dementia from laughter yoga to flower arranging. Since music is beneficial for those with dementia, pianists and singers often perform at the café which has been nicknamed 'the singing café' by one regular visitor.
'It's about trying different activities with people and finding out what stimulates them,' says Eleanor. 'This can enable carers to see their loved-ones for who they really are, beyond the dementia. Just for a while they might feel as if they have their loved-one back.'
For information about Crossroads Care's services for carers or if you would like to work/volunteer for the charity or become a Friend of Crossroads, do get in touch with us.