What a success our Show an Act of Kindness at Christmas Appeal has been this year – and it's all thanks to you.
Our 2022 appeal to lift the spirits of our often lonely older Carers at Christmas by hand-delivering hampers to them has surpassed even the popularity of last year's appeal.
With your generosity, we have managed to raise an amazing £2,665, meaning that we have been able to make this year's hampers extra special.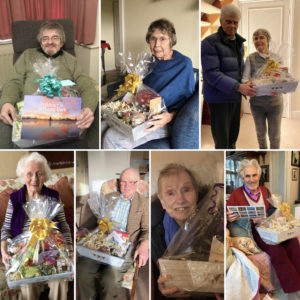 We want to express our huge gratitude to you all for showing these acts of kindness towards older Carers who work round-the-clock to look after loved-ones, often living with dementia.
Caring for someone with dementia can take a massive toll on the mental health of Carers, so being given a Christmas hamper is a real moment of light.
Our Care Support Workers are thoroughly enjoying delivering the hampers which have raised many smiles among the Carers we support. Carers are also loving the gorgeous personalised Christmas cards that the children of St Mary's and St Peter's School, Teddington, designed. And we were delighted when Andrew Wilson of Wild London donated stunning calendars to go inside each of the hampers too, depicting photographs of local landscapes.
Upon receiving her hamper, Joyce, 92, said: 'Oh that's lovely. People are so kind.'
Another Carer said: 'A big thank you for the lovely surprise of a gorgeous basketful of goodies. That's so kind.
'I cannot thank Crossroads enough for their help and support. It is truly appreciated. May you all have a marvellous Christmas.'
If you would like to find out more about our Christmas Hamper Appeal, visit: bit.ly/3TwKhav
If you would like to find out more about our core and community services and projects, or if you would like to work/volunteer for us or become a Friend of Crossroads, visit our website: https://www.crossroadscarerk.org/