Enormous thanks to everyone who attended our Annual General Meeting yesterday held in the beautiful salon room at York House, Twickenham.
We were delighted to welcome many of the carers that we support, along with our Patron Sir Vince Cable, the Mayor of Richmond Cllr Suzette Nicholson and former Mayor Cllr Nancy Baldwin, as well as our staff team, volunteers and other guests.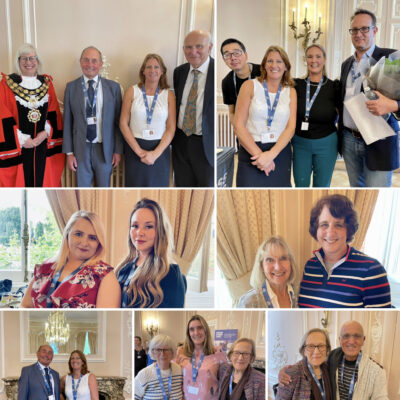 Our Patron Sir Vince Cable said: 'Those of us who have done a little bit of caring know that it's emotionally and physically draining, and carers need help and support — that's what Crossroads does and does it very, very well

'Crossroads is a very good example of the best of our community, so I'm delighted to continue to serve in this role and give moral support and on behalf of the whole community to say thank you for what you do.'

Thank you to James, who cares for his profoundly disabled son, for speaking so movingly about how the Crossroads Dads Who Care group has helped him to build friendships with other men who are in similar situations.

James said: 'The boys in the group will listen ask questions, share their experiences, give counsel, but we have fun and banter as well. They help normalise my world and remove the feeling of loneliness and the sense of loss. It has allowed me to open up, express myself, learn how to manage challenges and communicate better with others, but most importantly help me on my journey of being a husband, a dad and a man.'
Heather Mathew, one of our incredible long-term volunteers shared the impact that Crossroads has had on her life, from supporting her through the challenges of caring for her beloved mum and dad, to the benefits she derives from working at our Caring Café – a space that supports carers and those they care for living with dementia.
'So why do I volunteer for Crossroads? In common with my fellow volunteers, the simple answer is it is a privilege,' said Heather. 'What we give is far outweighed by what we receive. Volunteering is a form of self-care and brings me laughter, friendships, belonging and community and I would recommend it to anyone.

'To be able to share time with our guests, to sing together, hear stories of childhood and love and adventure, to watch as a hand taps out the rhythm of the music, to listen to the chat and laughter between friends and to sit in quiet comfort together allows me to see the heart and wonder of the people in our community and give voice and action to the care and empathy we all have for each other in the Crossroads family.'
Thank you to all our speakers for sharing their experiences of caring and special thanks to Saturday Club Lead and Senior Care Support Worker Danielle Way who spoke so passionately about how working for Crossroads enhances her life. You can read her story in our Annual Review 2022-2023: https://crossroadscarerk.org/wp-content/uploads/CRC-Annual-Review-2022-23_digital-version.pdf
With thanks to Carers Trust, London Borough of Richmond upon Thames, Hampton Fund, BBC Children in Need, Richmond Parish Lands Charity, The Victoria Foundation, The Barnes Fund and The National Lottery Community Fund.