The Queen's funeral service was an especially poignant day for everyone here at Crossroads Care, but particularly so for one member of staff at our Saturday Club for children and young people with special educational needs and disabilities (SEND).
While all of the Crossroads Care staff team are highly skilled and experienced, Saturday Club Deputy Lead Christine Gordon received an MBE from King Charles — then the Prince of Wales — back in 2015, for her services to education, charity and UK/Bahrain relations.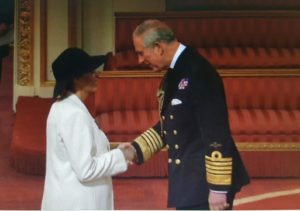 Christine, who has been working at Crossroads Care since returning to the UK just over a year ago, has more than twenty years of experience in the caring field, and in the course of her career has met the Prince of Wales on two occasions, so her thoughts are very much with him at this time.
'When you lose your mum, your whole world falls apart, but when it happens so publicly, it must be so difficult,' says Christine. 'It leaves such a void.'
It was in 1999, just after her three-year-old son was diagnosed with autism while the family were living in Bahrain, that Christine decided to set up a specialist school for children with special educational needs — The RIA Institute which remains a thriving hub today.
News of her MBE, sixteen years later, came as an enormous surprise to Christine and her family. Indeed, her husband burst into happy tears when he found out.
'It was a validation,' says Christine. 'It just goes to show that people are watching you and are affected by your good actions. Good actions go into people's hearts and once there, affect them for the rest of their lives. Receiving the MBE really was my proudest moment.'
Christine admits that she has ploughed even more of her energy into her care work since receiving the MBE, and her ongoing enthusiasm and commitment is palpable every weekend at the Crossroads Care Saturday Club.
Before she set up the school in Bahrain, Christine was a professional nightclub singer, and this week released a new single with her band Vacuum Blu. Her performing arts credentials are certainly put to good use at our Saturday Club which offers children and young people a range of activities including music and dance. Christine is always on hand with a smile and a bit of gentle encouragement for the children who attend.
'I love working at the club,' says Christine. 'For me, it's a constant reminder that we offer an amazing service for the children which allows them to express and develop skills in different ways which I like to think sets them up for success beyond school.'