The Crossroads Care Caring Café has been bringing music into the hearts of people living with dementia, and their Carers, for over nineteen years, via once-a-month piano and singing performances.
Funded within the Carers Hub Service Richmond upon Thames, this year the Caring Café is hoping to add to the musical experience of people living with dementia by inviting volunteer musicians to come along to the Café to play.
Music is such a powerful way to reach people living with dementia. I never fail to be moved by watching the popular YouTube video of the late ballerina Marta Cinta González Saldaña, who had dementia, listening to Tchaikovsky's Swan Lake, and replicating the beautiful choreography that she danced to decades before.
A 2018 UK Commission on Dementia and Music revealed that dementia patients understand and enjoy music, even if their brain has been significantly affected by the disease. Listening to their favourite songs can also minimise symptoms, such as changes in mood or behaviour, language problems and memory loss, the Commission found.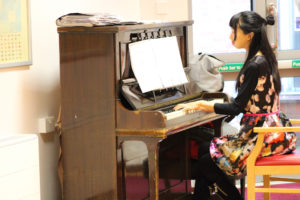 Gaye Goulding, Café Lead, has seen evidence of this at the Caring Café.
'One lady whose daughter brings her to the cafe has very little conversation and interaction with others,' says Gaye. 'However, when the music starts, she comes alive — smiling and singing along. She becomes a different person, involved and animated. She loves the music.
'It's incredibly rewarding and emotional to see what a positive effect the music has on café users. It creates a wonderful atmosphere, enabling Carers to take a much-needed break from their caring role and to attend our Carers Support Group and receive information and advice.'
Sometimes, with the aid of staff and volunteers, people with dementia get up and dance at the café too.
Now, thanks to a generous contribution from one of our volunteers, Heather Mathew, we have an array of musical instruments which we plan to use in improvisation sessions at the café.
But to bring even more music into the lives of our café users, we are on the hunt for volunteer pianists, guitarists and singers to play on occasional Saturdays at the Caring Café in Sheen. Musicians would need to be familiar with classics from the 1960s, 70s and 80s.
If you are willing to play music and/or sing at the café, we'd love you to get in touch with us. For more information call 0208 943 9421, email info@crossroadscarerk.org.uk.
This article featured in the February 2022 edition of TW Magazines.