Care Support Worker Sarah Weetch recently told guests at our Annual General Meeting just what it's like to be a Care Support Worker….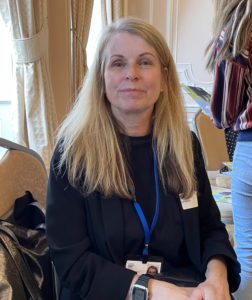 'I have worked for Crossroads Care since July 2020, but my career background was not in care. I worked as a PA for many years, but after redundancy at a time when my father was terminally ill, it really made me think about what I would like to do. I decided to have a complete career change.
'When I took the position at Crossroads, I was looking for a career that gave me job satisfaction, where I could make a real difference to people's lives when they are in need of help and support.
'The role of Care Support Worker is rewarding, but can be a challenging one too, as we give both physical and emotional support. One of the joys of home care is that I work autonomously, but know that I always have the support and backing of my office team and manager.
'I feel very lucky and honoured to care for people at a time when they are most vulnerable, and my main aim is to make sure the people using our services are treated as individuals with dignity and respect, so they can continue to have a good quality of life which helps them to live their best lives.
'I have supported many families, and the gratitude you receive is sometimes overwhelming. The cards of thanks I've been given make me realise how much we mean to the people we support, and how grateful they are for everything that we do.
'It's such a unique and enjoyable role where you become an integral and important part of the person's life. Our support allows people to live in their own homes, which has a really positive impact, promoting independence and giving people purpose and self-worth.
'My job is different every day. One day I could be taking someone out in a wheelchair so that they can go shopping while on another day, I might be preparing lunch and keeping someone company.
'The role of a Care Support Worker means that we have the opportunity to complete lots of training from safeguarding, moving and handling, to administering medication.
'I am also completing my Level 3 Diploma in Adult Care which is enhancing my knowledge and allowing me to deliver the best possible care.'