Care Manager at Crossroads Care Richmond and Kingston Nicola Wilson is raising money for Carers by taking on the epic Tough Mudder challenge on 15th April with her friends Sally and Laetitia.
Nicola, Sally, and Laetitia have all been uniquely moved by just how hard unpaid, often lonely Carers work to look after their loved-ones who are living with all forms of disability from dementia to rare chromosomal disorders.
That's why this fabulous fundraising trio are pulling on their trainers — and their Crossroads Care t-shirts! — to tackle 13 gruelling obstacles over a mud-spattered distance of 10K in Finsbury Park, to raise money for Crossroads Care. The ladies are also hosting a special event at The Richmond Club at 7pm on Thursday 30thMarch to raise funds for the charity with tickets priced at £15.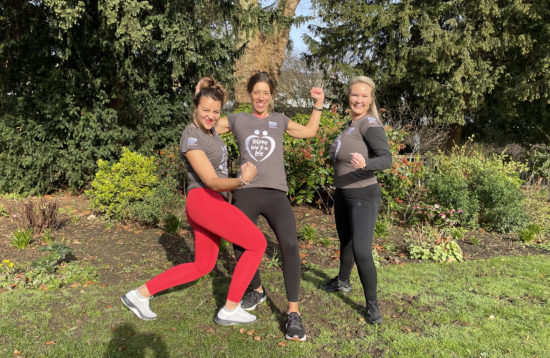 The reality for many Carers is that they cannot leave the person they are caring for alone even for a minute. Often sleep-deprived and socially isolated, some of them report to Crossroads Care that they have felt close to emotional breakdown.
To combat this, the charity's highly trained Care Support Workers take over the caring role, giving Carers vital, regular breaks. We also provide community respite groups which bring together Carers who are in similar situations to build friendship, share information and enjoy fun activities.
This cause is extremely close to Nicola's heart. She has been working for Crossroads Care for almost five years and knows just how under-pressure Carers are.
Nicola says: 'Every day, I see Carers and their cared-for dig deep and find strength and determination. I have so much admiration and respect for them that I felt compelled to well and truly push myself out of my comfort zone and take on the Tough Mudder.

'Thankfully, I'm doing the race with two of my close friends who inspire me on a daily basis. We can do this, ladies!'
Thank you for all your fantastic donations to Crossroads Care which will make such a difference to the support that can be offered to families caring for loved-ones around the clock.
To buy a ticket to The Richmond Club event on 30th March and for more information about it, contact: Nicola Wilson, Care Manager at nicola.wilson@crossroadscarerk.org.uk>
 To donate to Nicola, Sally and Laetitia's Tough Mudder, click here.
Thank you so much to everyone who has already so kindly donated to Nicola's Tough Mudder Challenge. We really appreciate your generosity.