To coincide with Complementary Therapy Week this month, Fiona Mitchell takes a look at how Crossroads Care is thinking outside the box to improve the lives of unpaid Carers…
Two years ago, when I first saw the therapy rooms at Crossroads Care, I must admit I underestimated their importance. I had just started volunteering with Crossroads – the local charity that cares for Carers — during the first pandemic lockdown, but had little idea of what being a Carer truly involved. That soon changed, however, once I began talking to Carers. And it emerged that their idea of a break was different to mine.
Experienced and specially trained dedicated Care Support Workers from the charity look after people that need 24/7 care in order to give unpaid Carers a break. This is a vital service that is in high demand.
'Having Crossroads in for a couple of hours lets you do something else, even if it's just putting the washing machine on,' one mum, a Carer for her disabled child, told me.
Care Manager at Crossroads, Nicola Wilson, recognises this. 'We do see that Carers tend to use their respite breaks to do everyday tasks like supermarket shopping and visiting the GP. That's why we offer more than respite alone – in the form of community projects and therapies.'
These projects are designed to nurture support networks and friendships between like-minded Carers, and include our Carers Book Club and our Men and Dads Who Care Groups. Thanks to funding from The Victoria Foundation, Crossroads Care was able to transform two dull office rooms into amazing therapy rooms – spaces where Carers can enjoy therapies such as aromatherapy massage and reiki.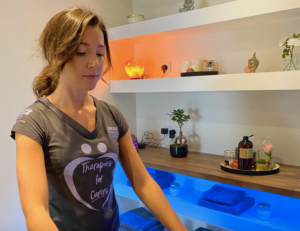 Massage does more than simply ease the physical effects of caring, which for some can mean aches caused by the constant lifting of the cared-for.
Caroline, who cares for her disabled son, explains: 'A massage gives me a reason to go out of the house and take time away from everyday stresses, as well as giving me emotional space. It helps that Jess, the massage therapist, understands the parent-caring role, so any conversation is completely empathetic and understood.'
Allowing Carers to take timeout from their caring role is at the heart of everything that Crossroads Care does, because as the charity's Holistic Therapist, Jess West, (pictured) says: 'In order to look after other people, you really do need to look after yourself.'
This article features in the March edition of TW Magazines.