Crossroads Care, the charity that supports carers and the people they care for, of all ages and disability, has 24 regular volunteers who bring a wealth of experience and knowledge to our team. While all our care support workers are paid, highly trained members of staff, our amazing volunteers contribute enormously within our community-based projects and other specialist fields, such as IT. Eighteen of our volunteers have enjoyed helping out so much that they have stayed with us for more than a decade!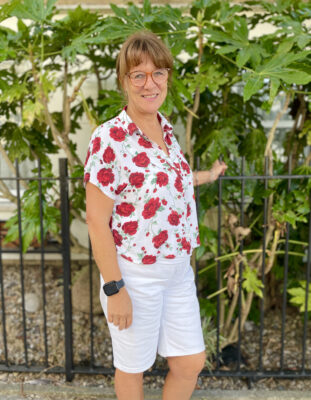 Retired special needs teacher Victoria first began volunteering for us almost four years ago.
It was a neighbourhood WhatsApp group that initially alerted her to Crossroads Care during the first Covid-19 lockdown in March 2020. Victoria signed up to take part in the charity's pandemic response which brought together 50 volunteers to support the borough's most isolated and vulnerable residents by delivering food and medicine and running a food bank.
Victoria was a founding member of the team and helped to set up the project, recruiting and onboarding other volunteers as well as doing her own visits.
'I wanted to get involved for two reasons,' says Victoria. 'One was the thought of sitting around at home doing nothing, no way! And secondly, I wanted to help the many people out there who were completely isolated or unable to access food easily.
'As a group of volunteers, we had quite a little community going on with great camaraderie.'
When the charity's Covid-19 response ended and we went back to our core work — supporting unpaid carers and the people they look after — Victoria carried on volunteering with Crossroads.
'I'd learnt so much about how Crossroads support carers by giving them much-needed breaks and had got to know so many of the staff who are lovely, so it was an easy decision to stay on.'
Using her skill set, Victoria continues to help Crossroads in a variety of ways, from supporting a staff member through her NVQ, to lending a hand at our weekly Carers Café in Hampton Hill which is an uplifting, safe space for carers and their loved-ones to make friends, take part in activities and enjoy a delicious lunch.
'Coming here and helping out is one of the highlights of my week,' says Victoria. 'It's hugely rewarding, and you feel like you are absolutely making a difference. The life of a carer can be very challenging and difficult and it's so important for them to have somewhere supportive to go where others understand the situation that they're in.'
'To anyone who's thinking of volunteering for Crossroads – I'd say go for it, you'd be making an important contribution to supporting carers who work so tremendously hard.'
With thanks to the funders of our Carers Café, the London Borough of Richmond upon Thames Active Richmond Fund.