Many of our Carers have been paying tribute to Her Majesty Queen Elizabeth II by laying flowers and sharing memories. Here, some of them talk about just how much the Queen meant to them.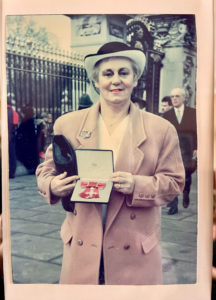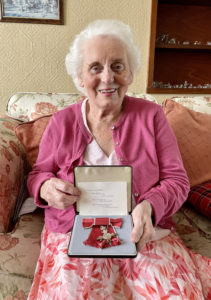 Joyce, 92, received her MBE back in 1990 for her services to education. A civil servant for the Education Department for more than forty years, Joyce visited Buckingham Palace with her husband Ray and daughter Brenda to receive her medal.
'I was so nervous that day,' recalls Joyce. 'As the Queen asked me questions, I almost couldn't get the words out, but she was just so calm and kind. My late husband Jim wasn't the kind of man to cry, but as he watched me, he became quite tearful. I have such happy memories of the day.'
Throughout the hours that Joyce spent at Buckingham Palace, she watched on as the Queen spent a considerable amount of time talking to people who had faced many challenges in their lives. And Joyce even got to meet all the corgis!
Along with an array of photographs from the day, Joyce, who has four great grandchildren, also displays the framed certificate that she received which was signed by the Queen.
'She was such a lovely lady,' says Joyce. 'It's just so sad that she's gone.'
Another person who Crossroads Care supports is Vera, 96 – who coincidentally shares a 24th June birthday with Joyce. The ladies are due to meet each other for the very first time at the forthcoming Crossroads Care Annual General Meeting in October.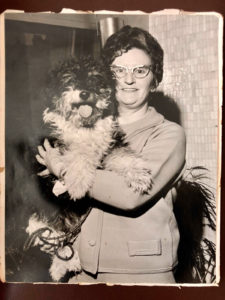 Vera's life draws some interesting parallels with the Queen's life. She was born just two months after the Queen in 1926. Married a year after the Queen in 1948, Vera had her first child, John, in the same year that Princess Anne was born.
Vera, who has two grandchildren, two great grandchildren and one on the way, also shares the Queen's love for dogs and once appeared on Crufts with her crossbreed, Jane – 'in the scruffy category' laughs Vera. 'Not with the posh dogs.'
Vera has been watching a great deal of television since news of The Queen's death broke last week.
'I feel like I've lost a friend,' says Vera. 'Of course, The Queen didn't know me, and I haven't actually met her, but I've rarely missed a moment when she appeared on television. It's marvellous to see all this pageantry with all these dignitaries which is a celebration of her life and part of history.'
Trustee Margaret Dangoor also shared a poignant memory of the Queen. Her parents took her to see the Queen on the day she was married at Westminster Abbey in 1947. The then seven-year-old Margaret got to see the Queen as she whizzed past in her carriage.
'We were dressed in identical tweed coats,' recalls Margaret. 'And we had a lunch packed in a tin box because there weren't plastic boxes back then. A photographer from an American magazine took a photograph of my sister and I beside Admiralty Arch.'
Margaret who has travelled up to central London twice now to see the many flowers and tributes that have been laid down for the Queen added: 'The Queen was marvellous and did so much for charity. What's happening is part of history and I wanted to go up and pay my respects and see the inauguration of the new King.'