Care Support Workers at Crossroads Care come from all walks of life – from college leavers starting out, parents wanting to work part-time while raising a family, to people who have taken early retirement. What they all have in common though is a passion for people, caring and their local community.
Here, Fiona Mitchell talks to Veronica, 74, who joined the charity over 10 years ago after retirement
Veronica supports Carers and the people they care for in their own home, providing them with a vital break from their caring role, as well as working at one of Crossroads' many outreach community-based projects — the Caring Café in Sheen. The role has not only enabled Veronica to earn extra money to top up her pension, but is fun too.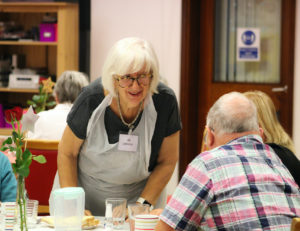 Veronica's career in care spans more than 55 years. Initially a nurse, she became a manager of care homes, then a social worker, and she has been able to put her vast knowledge and experience to good use at Crossroads Care.
Veronica says: 'It was either nursing or hairdressing when I left school, and it wasn't going to be hairdressing because I couldn't face washing all that hair! It's funny when you consider that doing people's hair has been part of my career in caring. Just brushing someone's hair or popping on a bit of lippy can make a person feel so much better.
'I wasn't ready to put my feet up after retiring. I wanted to be of help, to have that sense of purpose. This job energises me – I meet such wonderful people.
'As well as making lunch or doing ironing, there's lots of chatting involved and humour too. If someone's in a grump and doesn't want me there, I'm firm but kind. One of my clients even called me Mrs Bossy Boots once. It's about building friendships with people and giving them dignity.
'I love working with older people. They don't just sit in chairs, they have whole life stories. A colleague once said that the many reports I've written about clients read like Catherine Cookson novels.
'I work part-time and Crossroads are so flexible about my working hours, and are such a lovely team. I can't ever see a day when I'll stop doing this job.'
We're looking for more special people like Veronica to join our team, who want the job satisfaction of making a real difference to the lives of Carers and the people they care for.
To find out more about becoming a Care Support Worker with Crossroads Care, visit https://www.crossroadscarerk.org/join-us/