With the double whammy of plummeting temperatures and the soaring cost of living, Crossroads Care has stepped into the breach to offer a comprehensive Winter Response programme which includes a much-needed Warm Hub for many of the borough's most vulnerable and isolated Carers.
Thanks to grants from Richmond Council and the NHS (South West London Integrated Care System), the charity has opened its doors throughout the winter months, Monday to Friday, offering fresh soup, as well as a range of hot drinks, sweet treats and fruit. It's an environment where there's support, and a chance to build friendships. Games, newspapers and Wi-Fi are available too.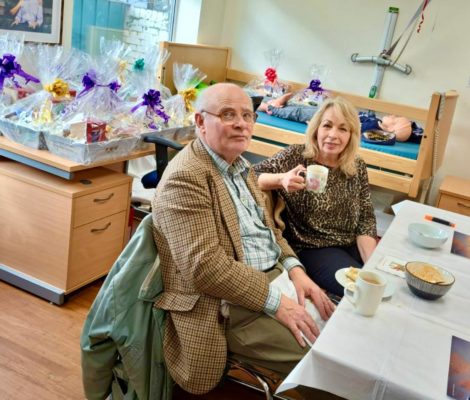 Crossroads is also offering free health checks from our registered nurse, and our trained and experienced staff team will be on hand to offer information and advice, risk assessments, winter safety plans and much more.
One Carer, who visits the Warm Hub with his disabled son, said, 'The strain it takes off paying the bills – because you simply have to have the heating on when you are looking after someone with a disability — is one thing, but really it's about the company. It's the fact that when you go to Crossroads, there are people to listen, people who you can turn to for advice.
'The winter months can be particularly lonely when you're caring for someone, and it's hard to get out. Even when you do, so many environments are too loud and busy, and people just don't know what you're going through. Sometimes you can end up feeling even lonelier. At Crossroads, they understand. You can find so much more than just warmth there – it's a place where you can find peace.'
Julie Da Costa, Crossroads Care CEO said, 'The cold weather combined with the fact that many Carers are struggling to pay their bills means that warm hubs, such as the one we are now offering, are a lifeline for those most vulnerable and at risk within our local community.
'Carers are particularly affected by this cost-of-living crisis as they often have to use energy for vital medical equipment and because many of the cared-for have mobility issues, turning the heating off is not an option. That's why we're so grateful to our funders who've enabled us to provide this vital service.'
For more information about the Warm Hub and Winter Response, email info@crossroadscarerk.org.uk or call 020 8943 9421. To find out about our core and community services and projects, or if you would like to work/volunteer for us or become a Friend of Crossroads, visit: www.crossroadscarerk.org