When Saturday Club Lead Danielle Way joined Crossroads Care as a care support worker five years ago, she wanted to make a difference, but never for a moment did she imagine just how working for the charity would enhance her life too
'For as long as I can remember, I've always gone out of my way to help people, but it wasn't a deliberate choice to become a care support worker, a job which I absolutely adore.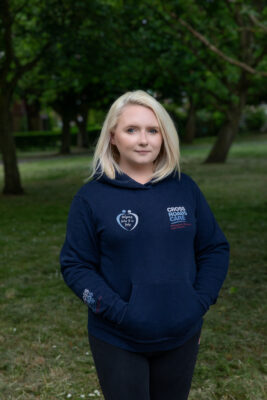 'I always knew that working behind a desk wasn't for me. I was bullied at school and felt that I had so much to give back. Initially, however, I trained as a hairdresser. It was so poorly paid though, so when a leaflet about care support work dropped through my door, I decided to give it a go.
'I started working in domiciliary care which involved making food and giving medicine to often older people living alone in their homes. We did half-an hour calls, which I felt were too short. I could sense their isolation and loneliness and it broke my heart every time I left, rushing out of the door to my next client.
'Working for Crossroads Care couldn't be more different. Each visit is at least two hours long, which means you have time to really get to know the people you are supporting. I've worked with some families for many years now, and you feel like you make such a difference to their lives. That's special.
'Every day is different, from taking an older person shopping or helping them work an appliance which they can't fathom. There's a lot of listening and often we have a good laugh!
'There's also a lot of career development at Crossroads and the training is next to none. It's a great place to work, in so many ways. I've been able to work around raising my young family, without putting my career and personal development on hold.
'Over the years, Crossroads has trained me to work with children and young people with complex care needs, to become a trainer (where I train staff in moving and handling), as well as becoming the lead at our Saturday Club for children and young people with special educational needs (SEND).
'At the club, we provide a safe environment and expand each young person's experience – be it through dance, karate or crafts. You get the privilege to see and be a part of positive change, helping to keep the family together, often through challenging times.
'Being able to make such a profound difference to people's lives is one of the many reasons I couldn't imagine working anywhere else. We are proactive and listen.
'There's never a dull moment. We have recently opened a 16+ group, after parents consistently told us that once their children leave school, they fall through a massive black hole with all their usual support systems coming to an end, at a time when they need more support than ever. It was so exciting being able to share this news.
'I've learnt so much and have also gained several qualifications, including a National Vocational Qualification, Level 3 in Health and Social Care.
'The charity doesn't just care about its clients and the community, the staff team are really important to them too. Like most people, I've had personal challenges and the team are so supportive.
'We have many social events where staff come together, such as summer drinks and a Christmas meal and dance – it's so much fun!
'Crossroads is an employer like no other; they look after you and care about you. I can visit our therapy rooms and have a massage. I can also participate in office yoga which helps me unwind and take timeout for myself which is a challenge when you have a young family. The health and well-being offer benefits the whole family too, with private health care and a gym membership.
'Crossroads has helped me to far exceed what I thought I was capable of, and I feel so lucky to work here.'
Photo: Danielle Way by Inga Judge
'The health and well-being of our staff team is of upmost importance to the charity, helping to ensure that they live better both in their personal lives and at work, especially during these unprecedented and difficult times.'

Julie Da Costa, CEO, Crossroads Care