Our Media and Communications Officer, Fiona Mitchell, explains how our Carers' Book Club brings together parent-Carers of children with disabilities, providing a much-needed lifeline….
It's been more than two years since I helped to set up the Carers' Book Club at Crossroads Care Richmond and Kingston and I'm delighted that we're still going strong. The club brings together often otherwise socially isolated parent-Carers of children with disabilities for book chat and friendship and importantly, it gives round-the-clock Carers a much-needed break from their caring role.
The club started over Zoom in the midst of the first pandemic lockdown, and we met up in person a few months later.
'I remember the very first book club I attended,' recalls one Carer. 'I hadn't been going out at all, let alone with strangers I hadn't met before. I felt like I kept stumbling over my words, but it's such a good space to be in.
'We're not in the same boat, but we're in the same storm, as the saying goes. You can be yourself and no body judges. Every time I go, I feel like it's been worth it. We pool our knowledge whether it's about hospital parking or the right mixer to use to blend food for our complex care children. And sometimes you don't want to think about the caring role at all which is why talking about the books is so great.'
We've enjoyed many a lively discussion about books that we have loved – and even those we have loathed! And we always manage to pack in lots of laughs too. Certainly, I feel very lucky indeed to have met such an inspiring and strong group of women who share my love of books.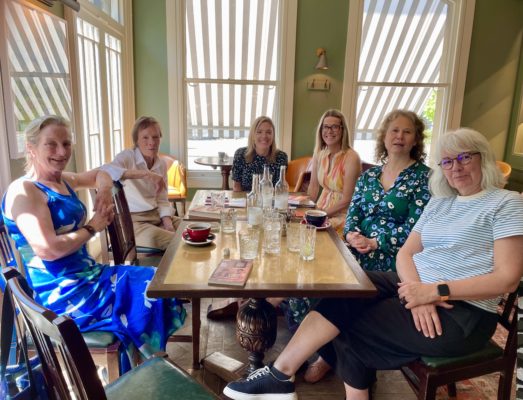 There have been several highlights for us over the past two years. Harriett Gilbert, presenter of BBC Radio 4's, 'A Good Read' came in to chat with us (pictured left), and some of us attended a literary lunch organised by The Victoria Foundation where author Anne Sebba talked about her riveting biography of Ethel Rosenberg a mother of two executed in 1953 for spying.
So what's on the Carers' Book Club reading list for 2023? We are currently reading Lessons in Chemistry by Bonnie Garmus, and author Bev Thomas whose second novel The Family Retreat is released in paperback this year has agreed to join us for an event. We are also hoping that our Patron Sir Vince Cable is going to visit us to talk about the books he has published including his latest, How to Be a Politician.
For more information about the Carers' Book Club or if you would like to work/volunteer for us or become a Friend of Crossroads, do please contact us.
This article first appeared in TW Magazines.