Rachel, 52, worked as a Care Support Worker for Crossroads for five years until a terrible accident at home meant that she needed care herself. Without her weekly two-hour visit from Crossroads Care Support Worker Danielle Way, Rachel says that she would be virtually housebound.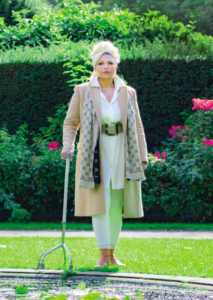 'I'm used to being the one who helps other people – it's just in my nature; it's who I am,' says Rachel. 'Going from being a carer to being the cared-for hasn't been easy at all.'
Rachel's life radically changed in 2016 after she slipped over in the bath one morning, hitting her head against a wall. Although she was in agony, Rachel was so determined to get to her client that she simply took a couple of painkillers and got on with her job. It was only later that day at hospital that an X-ray revealed that she had broken a rib, although no other health concerns were evident.
A few weeks later, still immersed in grief following the death of her father and now additionally caring for her mother, Rachel made the heart-rending decision to resign from the job she so loved. It was a particularly emotional moment because Crossroads Care had been part of Rachel's life since her youngest child Zak, now 25, who has dyspraxia and dyslexia attended the Saturday Club back in 2005 for eight years.
'I call Zak my blessing, but back then he was 24/7. You couldn't leave him at all because he had no sense of danger. I remember meeting the people from Crossroads for the first time and immediately they understood what I was going through. They were wonderful.'
Despite still caring for Zak, as well as her daughter with mental health issues, when a job came up at Crossroads Care a few years later, single mum-of-two Rachel jumped at the chance.
'Working for Crossroads was so rewarding because of all the people I helped, not only clients but their families too,' says Rachel. 'I understood their frustrations and fears. I saw and felt that with them. We become part of the family really. They rely on us to talk to.'
About two months after leaving Crossroads Care, Rachel's health deteriorated. She began to drop things and started to have the first of what she now knows to be drop seizures where she falls to the floor without warning. She lost sensation in the lower half of her body and started to suffer from mobility issues. She cannot digest her food properly and some days even loses the ability to swallow. Doctors are unable to pinpoint the reason for Rachel's neurological problems.
'When a friend suggested I needed carers, I said "no way, I don't need carers" but in the end I just couldn't cope on my own,' says Rachel.
'I was too scared about having a seizure to go out. Although my children and mum are great, I didn't want to put them through that stress.
'When former colleague Rachel Tawadrous from Crossroads visited me and suggested sending in one of their Care Support Workers to help me, I was reluctant. These were my old work colleagues and I didn't want them to see me like this. I felt ashamed.'
But Crossroads had just the right person in mind to help.
'Danielle and I hit it off straight away,' says Rachel. 'I feel safe with her – I know she's got me. If I get bad when we go out, Danielle knows what to do. Nothing is too much trouble for her. We get on like a house on fire.'
'I have good days and bad days, and when I have bad days, Danielle will just be with me. I love being with Danielle. She makes me feel alive.'